So What's a Mommy Makeover All About?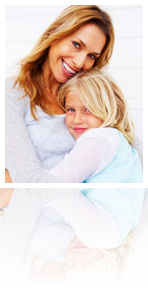 After gifting the world with a young human being, a new mother has to deal with the effects of pregnancy and nursing. A mother's own physical appearance changes substantially during and after pregnancy and with multiple births, the effects can be very significant.
While these issues are of little consequence during or right after pregnancy, they can have an effect on a women's psyche as tries to rebound to her pre-body form. Even after careful diet and exercise it can be impossible to get rid of the extra tummy skin and sagging breasts. A Mommy Makeover procedure, however, can help restore your body and can be customized to your needs.
So what is a makeover for mommies all about?

A Mommy Makeover is typically a combination of surgical procedures with the ultimate goal of helping mothers get their pre-pregnancy body back. A mother, after pregnancy, may have stretched or sagging breasts, a bulging tummy, and extra fat pockets in several isolated body areas. Consequently, a Mommy Makeover typically includes breast augmentation, a breast lift, or a breast lift with implants, tummy tuck (abdominoplasty), and liposuction of the abdomen, hips, thighs and back.
However, it is very possible that a makeover may consist of completely different combinations than the typical makeover combo mentioned. For instance, one mother may just need a breast enhancement, while another may need a breast lift and a tummy tuck. A mommy makeover is definitely a patient-specific surgery combination. The patient's specific need and expectations, of course, along with Dr. Hovsepian's recommendations, will help determine which surgeries should be performed.
In order to achieve optimal results, it is important that your plastic surgeon have extensive training and experience. Beverly Hills Plastic Surgeon, Dr. Raffi Hovsepian is Triple Board Certified and is extremely qualified in all Mommy Makeover procedures. Dr. Hovsepian combines surgical precision and mastery with his creative artistry. Before performing any surgery, Dr. Hovsepian will thoroughly explain to you the potential benefits and risks.


Schedule a personal consultation with Dr. Hovsepian by calling us at (310) 999-1003. You may also reserve a consultation time with the him via this Online Contact Form.