Achieve Youthful Hands with Dr. Raffi Hovsepian's Non-Surgical No Downtime Hand Rejuvenation ProcedureAs we age, it's not just our face that shows signs of time passing, but our hands too. As time passes, our hands lose their youthful plumpness and start to show signs of life's wear and tear.
By the time most people reach 50, their hands are a roadmap to their age -- and can make them look older than they are.The loss of volume, increased visibility of veins and tendons, pigmentation issues, and textural changes can give our hands an aged appearance. However, thanks to the remarkable advancements in non-surgical procedures, achieving youthful hands is within reach! Triple Board Certified Plastic Surgeon, Dr. Raffi Hovsepian, offers a transformative Non-Surgical Hand Rejuvenation Procedure to not only address these concerns but also give you the youthful hands you desire!
Understanding the Non-Surgical Hand Rejuvenation Procedure:

Dr. Hovsepian's Non-Surgical Hand Rejuvenation Procedure is ideal for individuals experiencing volume loss or visible signs of aging in their hands.
This is a fast, simple procedure that literally turns back the hands of time. (pun intended) Although it may appear painful, with lidocaine added to temporarily numb the area, iit's a little more than a quick "prick".
Dr. Hovsepian injects several areas and then spreads Radiesse® to form a smooth, even surface on the back of your hands.
The procedure generally takes less than 20 minutes to inject both hands. A "bolus" or "ball" of Radiesse® is injected and then massaged into the volume-deficient areas. Because the product is thicker than other fillers, it stays in place, giving you smooth and even skin.
Once injected beneath the skin, Radiesse® microspheres encourage the body's own production of elastin and collagen. The result is plumper, smoother skin.
Radiesse® is a calcium-based dermal filler that offers a natural-looking, long-lasting alternative to surgical procedures. The depressions between the tendons and veins are refilled so both the bony appearance and the vein prominences (and the dark color of the veins) are reduced, giving your hands a softer, fuller appearance that signifies youth.
Recovery After Hand Rejuvenation:
One of the advantages of Dr. Hovsepian's Non-Surgical Hand Rejuvenation Procedure is the minimal downtime involved. Patients can resume their normal routines immediately after the procedure. This means you can enjoy the benefits of younger-looking hands without having to put your life on hold.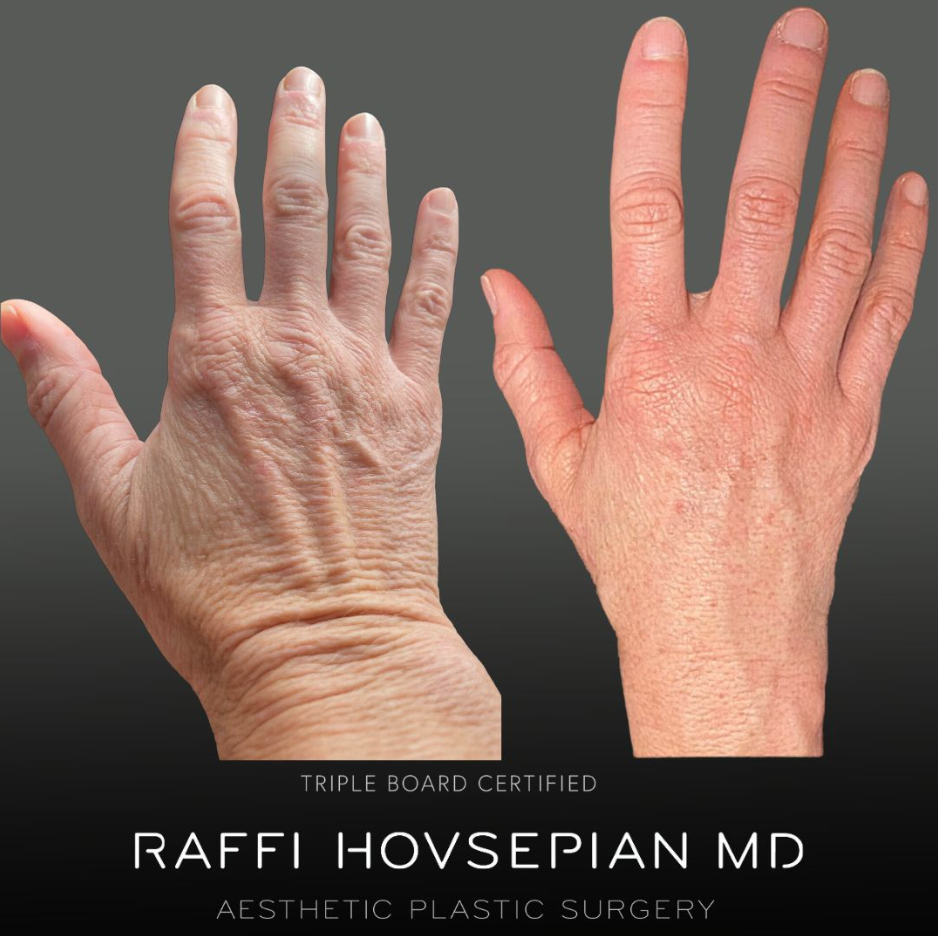 Conclusion:
The hands, which are routinely ignored when it comes to sunscreen, are the first to show signs of sun damage. The decades-long cascade of liver spots and brown patches can keep popping up long after we've learned to stay out of the sun.
With Dr. Raffi Hovsepian's Non-Surgical No Downtime Hand Rejuvenation Procedure, you can now bid farewell to the signs of aging that have affected the appearance of your hands. By utilizing Radiesse® , Dr. Hovsepian offers a comprehensive approach to achieving youthful, rejuvenated hands.
Say hello to a more confident and vibrant you with this transformative procedure!
Remember, your hands deserve the same care and attention as your face. So why not embark on this incredible journey towards youthful hands with Dr. Raffi Hovsepian, a trusted name in the field of plastic surgery? Schedule a consultation with us today!